Topdattion
Regular price
$298.99
Sale price
$268.88
Unit price
per
Sale
Sold out
Discover the ultimate bathroom luxury with Topdattion's Ultra-Slim 6-Bar Electric Towel Warmer! Engineered with a state-of-the-art design, this towel warmer incorporates a feather-thin profile, crafted from superior 304 stainless steel, delivering a brushed finish for a modern aesthetic. Its laser welded edges eliminate sharp corners, providing a sleek look, and it boasts an IP44 waterproof rating, ensuring safety and durability.
Experience rapid heating and avoid overheating with our cutting-edge temperature control feature. The towel warmer operates efficiently at 110V and 100W, keeping your towels dry, warm, and odor-free. The user-friendly LED display panel showcases 5 consistent heating levels and 24 timer controls for effortless customization.
Installation versatility is at its peak with options for left or right outlet, plus the choice between hard-wired or plug-in configurations. Supported by a 2-year warranty against non-man-made damage, trust in the resilient nature of Topdattion's electric towel warmer.
Topdattion's Ultra-Slim 6-Bar Electric Towel Warmer redefines your bathroom experience. Stand out with its innovative design, the slim profile, and the large LED control panel. With over 15 years of industry-leading manufacturing experience, trust in its premium quality and longevity.
Customize your towel warmth with 25 timer control levels, allowing for continuous operation or scheduling between 1-24 hours. The 5 temperature control levels let you fine-tune your towel's warmth, bidding farewell to cold, damp towels. Upgrade your daily routine with the comforting embrace of warm, plush towels with Topdattion's Electric Towel Warmer!
Share
View full details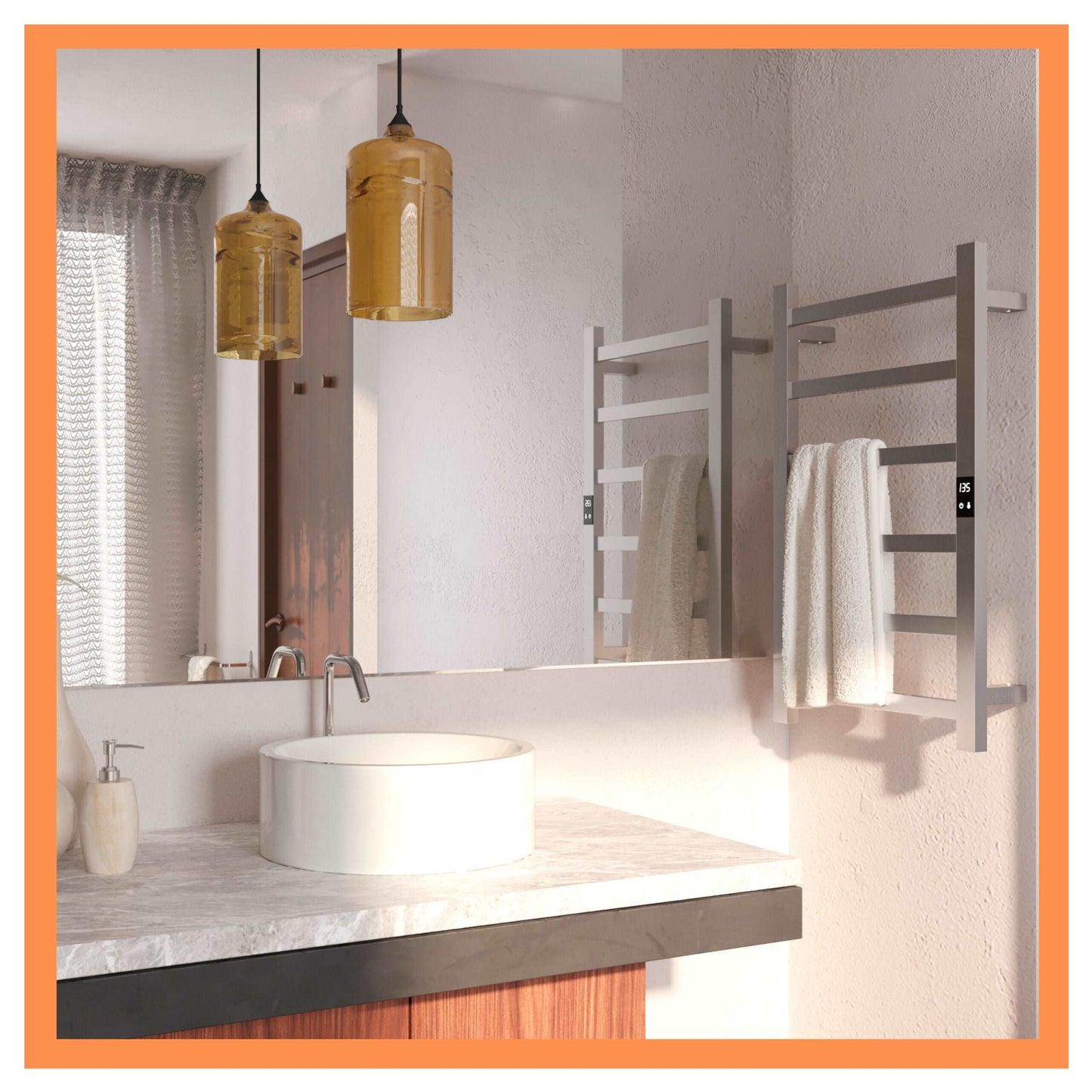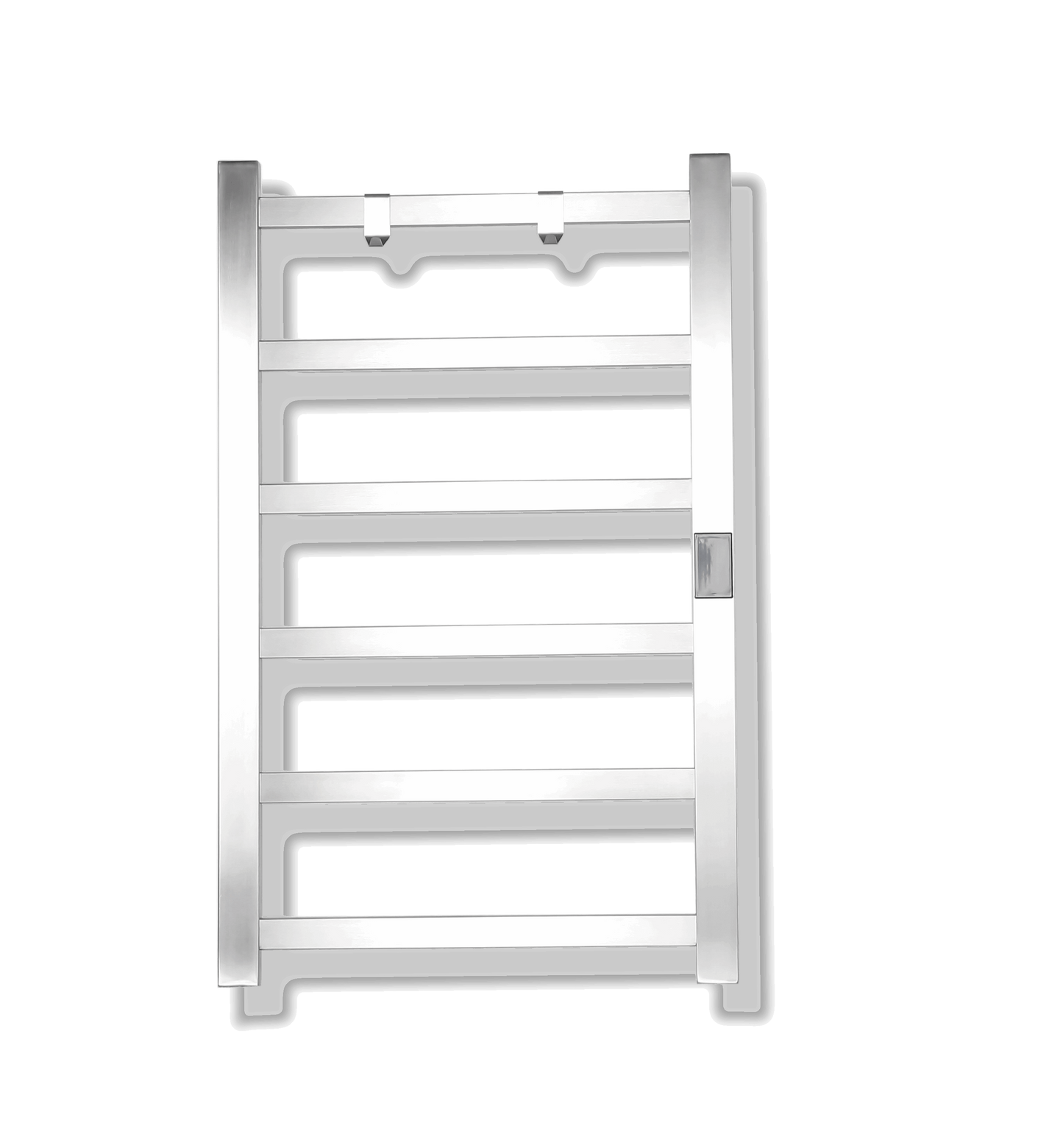 This is a luxury!
We used this towel warmer as part of a complete bathroom renovation and it is truly a luxury that every upscale bathroom should have. The unit looks and feels very solid with plenty of space between the bars and the walls. It took longer to heat up the ultra-thick towels than we expected but we just turned it on slightly before we shower and by the time we were done, we were able to wrap ourselves in luxury warmth. We've also used it to make sure any damp items are dry before throwing them into the laundry basket. No disappointment with this item, good looking, easy to use, timed shut off, everything is good, no issues.
Beautiful and functional!
We installed it about three months ago during a bathroom remodel. We have set it to run from 8 PM to 2 AM, so that towels are warm before the evening shower and then had some time to dry afterwards. The finish of the entire product is a nice brushed stainless steel, with neat seams and joints looking clean and smooth.
We installed it by screwed in the left side mounting bracket into studs while the right side used wall panels. This provided a good secure attachment. Installation was done by placing four sturdy small stainless steel flanges onto the wall, each one secured by one screw, and then sliding the legs of the rack onto these flanges and connecting them to the tapered portion with some fixed screws. Easiest way may be to place the flanges onto the legs and then lean the device against the wall so that legs are centered at where you want the screws in either studs or whatever.Then draw a circle around each of the legs on the wall lightly. This will tell you where to drill and install connecting points so they align perfectly with your rack.
They say its temperature control is set at 145F, I haven't measured it but it seems right (I guess this is in indoor environment). It feels hot to touch and uncomfortable but doesn't seem enough for any short contact burn, at least for adults. Metal below towels feels hotter than part exposed to air which makes sense, something to be aware of . Evidently they are trying to strike a balance between making hot towels and causing burn hazard.
Overall, we are very happy with this product.
Works well and looks good
Our electrician had no problems with the installation. We opted for the hardwired option and like that we don't see any exposed wires. I also like the fact that I can choose to connect the power supply on the left or right. I also like the long timer, so it's ready when I get out of the shower. The towel is nice and warm and looks great hanging on the wall. So far, I'm very happy with my towel warmer and it really is as simple and as useful as it looks.
Definitely gets hot and looks good.
The towel warmer looks good, is stylish and was easy to install. It was packaged up well in foam. The warmer is well made, crisp and clean lines, no unsightly welds or other imperfections. It really looks sharp!
I direct wired to an electrical box I put in, the warmer comes with a cover plate to feed the provided cord through. (Need to cut the cord and wire nut like normal in box connections). The cover plate and electrical supply can be in the bottom left or right as it has been pre wired at both locations to attach the included power cable. The other three legs of the warmer are the supports and they come with screws, drywall anchors, and mounts.
To install, I attached the cover plate to my elec box, then held the warmer in place, sliding the lower "leg" into the elec box cover plate. Then I leveled it and drew a line around the other 3 legs, removed the warmer and put a mark at the center of each of the 3 drawn legs. Drill and insert anchors and attach the mounts. The warmer legs slide over the mounts and have small screws that you tighten with the Allen key. Pretty simple!
Once you turn on the breaker, a small light stays on, it's the power light. You press that to turn on and press again to set how long to keep it on. Each press adds an hour. There is another button to set the temp.
I set my temp to the max 155 (that has stayed as the default ever since). I turn it on about a half hour or so before showering and set it for 3 hours. I keep my towel wrapped in a weave around the bars. Like others mention, the towel gets ok warm. Definitely not hot, it's noticeable but not as hot as you'd hope. That said, it's not the fault of the warmer. Those bars got hot! If you lean againt it with bare skin, it feels HOT. Not burn and leave a mark hot, but just shy of. So, the issue is just that the towel is folded, it's thick, and only touching the heat at certain areas. So, unlike fresh out of a dryer heat, this doesn't have the surface area to cook an entire towel.
If your primary goal is for a hot towel, these warmers won't do that. If your looking for some warmth but also stylish look, this will do that. Just manage your heat expectations.
Also, a couple other bonuses: I wrap my underwear around the lower bar as tight as I can wrap it. That makes it nice and warm after showering and is now my favorite part of the warmer! Also, I mentioned turning it on for 3 hours, that way it drys the towel when you're done.
Nice heated towel warmer
Nice heated towel warmer. Very slick design. My husband installed it without any problems.